Located along scenic Route 6 within the Pennsylvania Wilds in McKean County, Smethport offers visitors a unique glimpse of the Gilded Era, featuring over 30 architectural gems constructed during the 1880s. Here you can enjoy a variety of quaint shops, dine at one of our locally owned restaurants, or take in fresh, country air while hiking picturesque trails or relaxing on the banks of nearby Hamlin Lake.

Distances from Smethport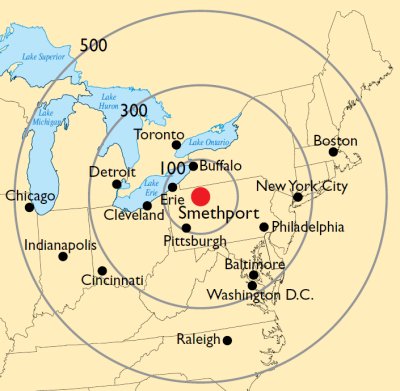 Baltimore, MD – 304 miles
Boston, MA – 470 miles
Buffalo, NY – 98 miles
Chicago, IL – 472 miles
Cincinnati, OH – 453 miles
Cleveland, OH – 212 miles
Detroit, MI – 390 miles
Erie, PA – 116 miles
Harrisburg, PA – 210 miles
Indianapolis, IN – 520 miles
New York, NY – 320 miles
Pittsburgh, PA – 156 miles
Toronto, Canada – 196 miles
Washington, DC – 340 miles

Click on "Directions" in the callout box below to get complete route information to Mansion District Inn Suites from your location.