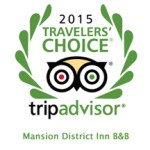 Where Every Guest is a Guest of the 1890s McCandless-Hamlin Family!
The goal of the Mansion District Inn is to have every guest experience the opulent lifestyle of the early 1890s, but with the addition of 21st century amenities.
Oil, natural gas and lumber were a major part of the region's economy, and commerce was conducted by horse-drawn carriage. Although modern Smethport no longer relies on the clippity-clop mode of transportation, guests at the Inn are assured peace and quiet. White noise generators and individually wrapped soft ear plugs bedside create a soothing, consistent sleeping environment.
All this, plus an exotic breakfast with gourmet coffee in a plush Victorian dining room, make for a memorable Bed & Breakfast experience during your stay at the Inn.
The Inn offers several exquisite rooms to choose from…